Meet Dr. Cordray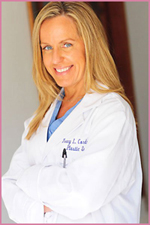 Dr. Tracy Cordray is a plastic surgeon specializing in breast surgery, microsurgery and other plastic surgery procedures. Dr. Cordray graduated with honors from the prestigious College of Charleston in South Carolina. She then attended the Medical University of South Carolina where she received her Doctorate of Medicine degree. Following graduation, Dr. Cordray spent time as a Resident in General Surgery also at the Medical University of South Carolina. After her Residency was complete in 2002, Dr. Cordray moved to the Los Angeles area were she took part in several specialized Fellowships in Breast Oncologic (Cancer) Surgery, MICROSURGERY, and Plastic and Reconstructive Surgery.
Dr. Cordray received excellent training in surgical oncology at the world-renowned John Wayne Cancer Institute in Santa Monica, California. She learned the very important surgical techniques involved in breast cancer surgery during her training at the John Wayne Cancer Institute.
Take the next step and contact us today to schedule a consultation with a qualified plastic surgeon that you can fully trust.
Following her Oncology Surgery fellowship, Dr. Cordray went on to successfully complete her Plastic and Reconstructive Surgery fellowship at UCLA, as well as a year of specialized training in MICROSURGERY. She is fully qualified to perform ALL types of breast reconstruction, including those which require microsurgical techniques. Dr. Cordray has performed over 150 DIEP (Deep Inferior Epigastric Perforator) flaps for breast reconstruction throughout her training and professional career. This is her field of expertise.
Dr. Cordray takes pride in utilizing this specialized training to help her patients. In addition to her educational background, Dr. Cordray has given many presentations and published many articles in her surgical specialties. To learn more about Dr. Cordray, you may

download her CV here.